Anglo Dutch 1660-1720
During the late 17th century and the first decades of the 18th century, houses were often influenced by Dutch architecture. This style had become popular in England following the restoration of King Charles II and was responsible for the introduction of the sash window.
The typical town house in Dublin was gable fronted, the gable being either triangular, or in grander houses having a curvilinear shape, and these house were commonly called "Dutch Billies" The interiors of these houses were timber paneled and decoration tended to be quite simple.
Neoclassical Style 1770-1800
Externally, neoclassical houses were given large fan-lighted doorcases, windows had their cills lowered, and small balconies were often set before the windows. Internally, the decoration of rooms became much lighter and more feminine in feel.
Victorian House Style 1840-1890
The Victorian style is really an assemblage of different historic architectural styles including the Gothic, Tudor, Elizabethan and Classical. Victorian houses in Dublin tended to be quite conservative in their detailing, and use of these varied styles and the Classical style continued to be popular. Owing to the availability of large sheets of glass at affordable prices multi-paned windows were replaced the single panes of glass and ornamental fanlights gave way to plain glazed fanlights.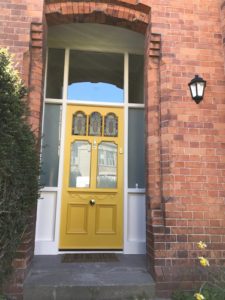 Edwardian House Style 1890-1918
The Edwardian style was influential from around 1890 up until the first world war. The Arts and Crafts movement developed as a revolt against the vulgarity of Victorian houses with their cheap mass produced furniture and fittings. The movement looked to a return of the use of real craft skills of a most honest style. In Dublin, the Arts and Crats style usually manifests itself in the use of timber boarded doors, leaded casement windows, porches and verandas.
Georgian / Palladian House style is 1720 – 1770
The Palladian style was influenced by the work of 16th century Italian architects and, in particular, Andrea Palladio.
These Architects interpretation of the Roman classical style was purer and more archaeologically correct than early renaissance work. The Palladian style was introduced to Ireland in the 1720's. The Palladian style influenced the design of door cases, the proportioning of windows and the proportioning and detailing of interiors.
Greek Revival 1800-1840
It was only during the 19th century that the style became fashionable. This may have been because of a reaction to the neoclassical style and its overly elaborate detailing, Externally, the use of shallow pediments, segmental fanlighted and windows set in shallow arched recesses was typical, as were door cases with free standing Doric or Ionic pillars.
1930's House Style – 1918-1945
Between the wars, many houses continued to be built in a distilled version of the Edwardian style with timber casements, bay windows, tiled roofs and some tile hanging to walls.