Introducing The Period Door Company way
At The Period Door Company, we are passionate about restoring original, high-quality wooden doors. We retain the heritage of important fixtures rather than needlessly replacing them. This, firstly, ensures you get to keep your home's stylish features, but also minimises the cost. Restoration identifies, isolates and treats your door's problems, meaning you don't have to pay
for a full replacement when it isn't necessary.
Working on Period doors for many years, we have gained substantial expertise in the field. Over time, we have tried, tested and perfected new and innovative methods for Period door restoration and refurbishment combining modern techniques with good old-fashioned knowledge and craftsmanship. Our restoration service will ensure your Period Door is restored to the highest standard, with repairs, preservative treatment, draught proofing and decoration all carried out with care and dedication.
This isn't your usual restoration service, though. We care about retaining the quality of your Period door. That's why we hand strip and decorate your door with great care. Resulting in a higher quality finish with no harmful dipping. By removing the door from your property, we also ensure the timber is protected from any harsh weather or humidity as it is restored. Our expert joiners complete all of their highly-skilled work in a suitable workshop environment. This way of working quickens the process for you, minimises mess and disruption in your home and results in a finished product that is sure to bless your home for years to come.
Examples of our work restoring Period Doors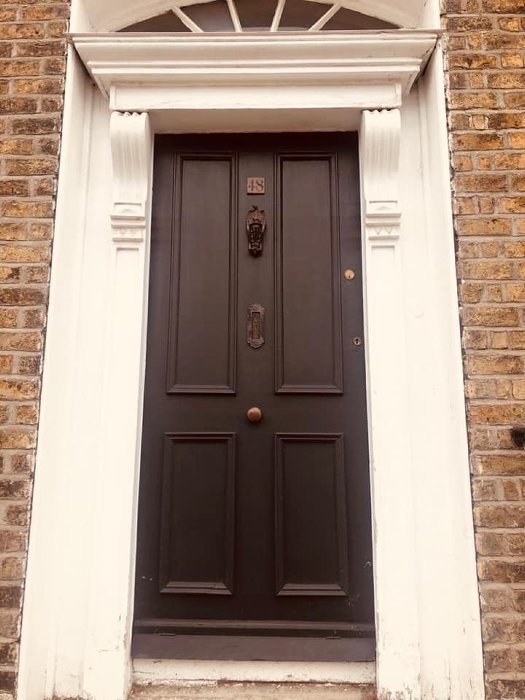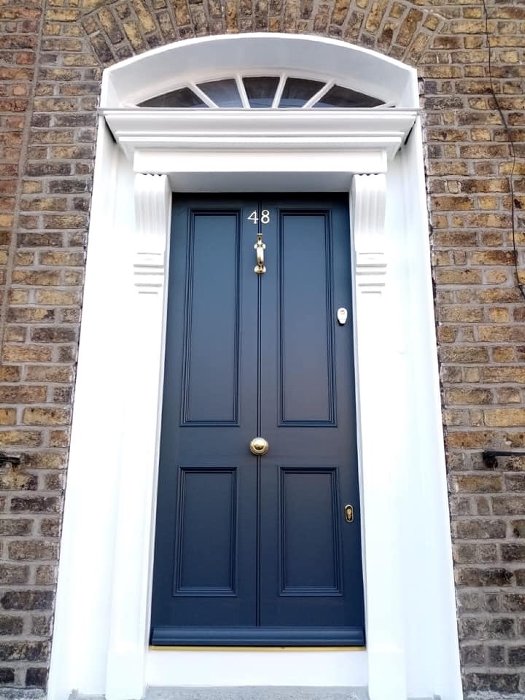 Heytesbury Street, Dublin 8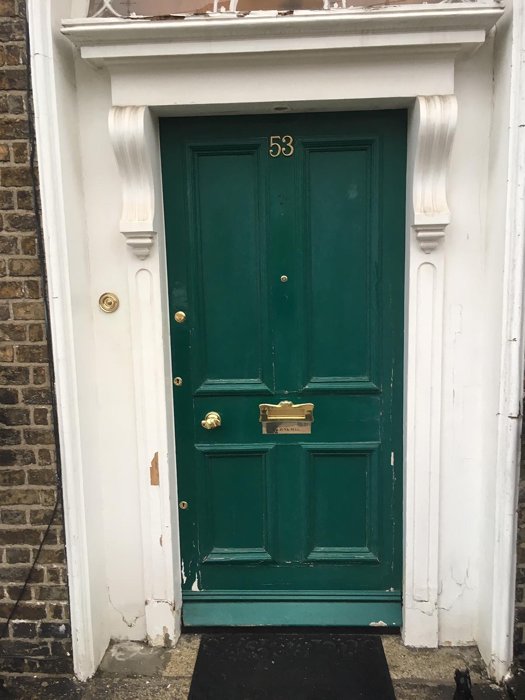 Period Country Farmhouse, Co. Laois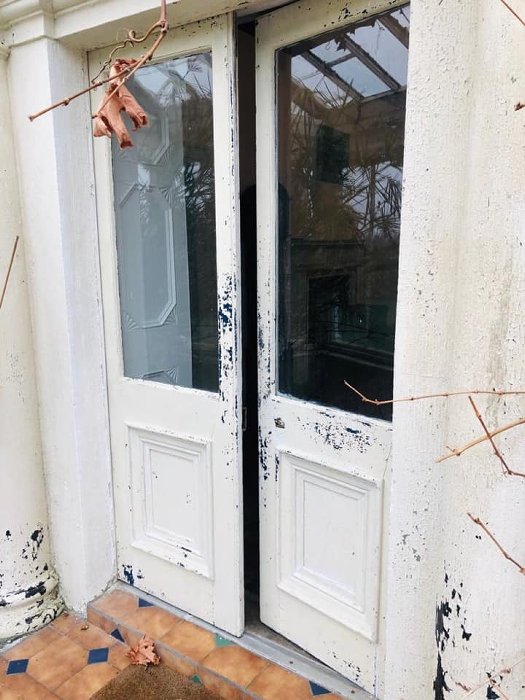 Before Restoration Exterior
Mount Street Crescent, Dublin 2
Before Restoration Exterior
South Circular Road, Dublin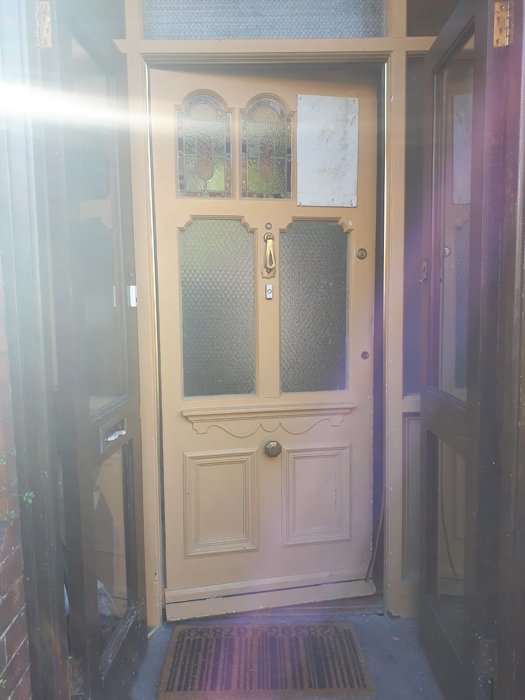 Before Restoration Exterior
Fitzwilliam Place, Dublin 2
Before Restoration Exterior
Before Restoration Exterior
Period Door Restoration FAQ
With a full wooden door restoration from The Period Door Company, your ORIGINAL Period Door is sure to stand the test of time. We don't believe in costly replacements. Instead, we specialise in restoring the durable, original timber, renewing the heritage and beauty, and upgrading the doors' energy efficiency with full draught-proofing.
Can my Period Door be restored?
Yes, for many years, solid wood doors have been the most popular choice for Irish homeowners. With good reason too. They're strong, durable and elegant in appearance. But they aren't without their problems. Without proper maintenance, Period doors can become susceptible to a number of issues over time.
Given that the bulk of the door is made from solid timber, it makes sense that the main problems arise from the wood itself. However, there are also some difficulties with paint, draughts, and metal features like hinges, locks, and letterboxes. The good news is that – unlike uPVC alternatives – most problems with wooden doors are entirely treatable and solvable. At The Period Door Company we specialise is solving these problems.
Why is my door jamming?
While modern doors typically use some amount of veneer, original Period Doors have been built to last with a durable high quality origan and pitch pine species. There is no questioning their longevity, as they have already lasted beyond the life of veneer or uPVC alternatives. However, without proper protection, even these wood types can become vulnerable to swelling.
Because of flaking paint, broken seals or even small cracks, the wood can become exposed to the elements. This allows moisture to get to the timber, either from wet weather or humidity in the air. And when the wood fibers absorb this moisture, they expand, causing the door to swell.
Understandably, this is problematic for homeowners because it affects the function of the door. It soon becomes irritating having to yank your door open and force it shut. And if the swelling worsens it can even lead to a completely non-functional door.
Can swelling lead to even worse problems?
With the ongoing expansion and contraction of wood fibers, it's only a matter of time until pores open up in the wood's internal structure. This allows water to sit within the wood, which marks the start of the dreaded decay. The longer it goes untreated, the more it becomes unsightly and problematic. And much like swelling, it can eventually result in a door that's simply not fit for purpose.
The solution? A full door restoration by The Period Door Company will ensure your doors are protected from their environment, be it humidity or the effects of the weather. Decay might make your door look unsalvageable, but this is simply not the case. The timber can be restored and treated with preservative – including the repair of any cracks in the wood – and improved sealing and protective paint will ensure the problem won't continually reoccur.
How do I know if my doors are painted properly?
With any Period Door, it's essential to protect the timber from the effects of weather and temperature changes. As established, even the smallest problems with paint can expose the wood to much bigger problems. And this is the case even more so for Period Doors.
Stripping the paint – Protective coatings needs to be applied directly to the timber to fully preserve it. If the old paint isn't stripped correctly before repainting it will diminish the longevity of the new coat. Layer upon layer of old paint can also lead to jamming over time and the loss in intricate detail on the product.
To speed up the stripping process, some companies use a technique known as dipping. This takes some effort out on their side, but can actually damage the wood. Because dipping uses certain chemicals to strip the paint from the door, it has the potential to cause cracks in the wood. A professional hand stripping is the optimal solution. Under no circumstances would we
ever dip an original Period Door.
Then what about the paint job itself? With unprofessional painting, you will encounter a number of issues. Insufficient coverage is one problem. Due to a lack of expertise, certain areas are left exposed or covered too thinly. The optimum solution is to have the door panel removed and brought to our workshops where the door is stripped back to the original timbers, preservatives treated, repaired and fully resprayed with microporous paints.
What if my doors are draughty?
While old wooden doors benefit from the great strength and aesthetic appeal, they are sometimes let down by their energy efficiency. The fact they were crafted many years ago means they are sometimes ill-equipped to keep out draughts. But they don't have to stay that way.
A full restoration of your wooden doors will ensure they are fitted with modern draught-proofing. After a thorough renovation, your doors will be able to deal with even the harshest weather conditions, keep the cold out in winter and save you money on your energy bills. At The Period Door Company we specialise in Performance Upgrades (link to brochure)
Other signs your doors need restoration
As well as these larger problems, small niggles can contribute to a door's need for restoration. Hinges, locks, and letterboxes can become rusty over time, which is problematic for their function as well as being an eyesore. But the poor function of these features may also indicate more serious underlying problems.
Often, hinges and locks become loose as a result of wood decay. This is one big advantage of a professional survey of your doors. Surveyors can determine the cause of even the smallest problem and will be able to suggest a suitable course of action.
Should I choose restoration or replacement?
The choice between restoration and replacement may seem daunting to any homeowner. Your door is an important part of your home's façade. An inauthentic or poorly matched replacement could have a significant negative impact on your home's appearance.
Replacements are highly expensive and, in many cases, they represent a false economy. While wooden doors have already lasted through the ages, uPVC alternatives are a relatively short term solution. A restoration of the original wooden door will provide cost-efficiency as well as a longer-lasting result.
Some companies will suggest a replacement at the first sign of decay, but this is completely unnecessary. With all this in mind, it's important to get a professional survey from a trusted company to allow you to make an informed decision.